Concrete Work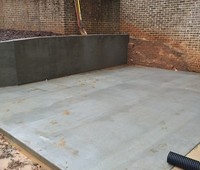 Concrete is a material that's used extensively in all landscaping projects. It's used in different types of hardscaping jobs and in many ways, provides a solid base for various other "live" features that will be installed in the landscape. If you live anywhere in and around Sugar Hill, Lawrenceville, Buford, Alpharetta and Suwanee and want to get some concrete work done on your property, it's important to hire the services of an expert and experienced company like SCCR Landscapes Inc for the concrete work.
Range Of Concrete Solutions
We have also handled a significant number of projects for commercial and residential property owners in Duluth, Roswell, Gainesville and Norcross. We handle concrete removal and replacement projects as well complete new installation projects as well. Every job we undertake will be in line with your specific requirements and the different types of concrete services we provide are:

Foundations

Concrete driveways, pathways and walkways

Curbs and concrete edging

Stamped concrete patios

Concrete paving for different outdoor spaces

Concrete patios and pool decks

Sidewalks and drainage systems

Decorative concrete installations

Stone work / Masonry

Garden steps

Concrete Retaining Walls

Concrete boundary walls

Others
We understand that all these concrete installations are going to be the base of the rest of the features on your property and it's important that the best materials be used in the work. The workmanship will be top of the line and we ensure the best finishing and detailing as well.
Different Aspects of Concrete Installations
We are a company that's highly focused on providing solutions that work perfectly for our customers. The things we focus on:

High grade concrete work that is structurally strong and sound

Low shrinkage mix used. This reduces the chances of cracking and pop-outs

The concrete used in our work has clean aggregates – this ensures the quality of the materials and fastness and consistency of colors

The concrete edging is finished in a very detailed manner and this lends a neat look to the landscaping

In most instances, masonry installations are part and parcel of a larger landscaping project. In some cases, clients ask us for standalone concrete features or want to replace or upgrade existing ones and we handle that job too. On board our team are highly experienced personnel that work in a concerted and detailed manner and provide high grade concrete installation solutions that will last for number of years.
High Quality Concrete Work
We are the experts that go out of the way to ensure that all the installations are right in line with the vision you have for the outdoor spaces in your home. If you are considering installation of any type of hardscape feature, call us with your requirement today. We are creative and innovative in our approach to our work and complete every project in a detailed and timely manner. Call us at SCCR Landscapes Inc on 770-354-3486. You can also contact us using this online form.